Father Wolf
Talk

0
80pages on
this wiki
Father Wolf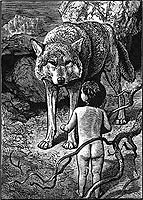 Father Wolf meets Mowgli
Father Wolf was the mate of Raksha, father of Grey Brother, and adoptive father of Mowgli.
Father Wolf discovered Mowgli when he investigated a noise outside the cave den where his mate Raksha (Mother Wolf) was suckling her cubs. Instead of the tiger Shere Khan, he was startled to see a naked human baby emerge from the bush. At Raksha's request he brought the "man's cub" to her and she decided to adopt him and name him Mowgli. Father Wolf died at about the same time as Raksha, when Mowgli was about 14 years old, and Mowgli mourned them and sealed their bodies in their cave.
Media portrayals
Edit
In the Disney film version of The Jungle Book, Father Wolf is named Rama. In the books, his personal name is never given; Rama is instead the name of a buffalo in the human village that Mowgli briefly joins.
In the Japanese anime Jungle Book Shonen Mowgli, Father Wolf is named Alexander. He has bluish-black fur and plays a larger role than in the book; it is him, not Luri (Raksha) who faces Shere Khan. He is also the leader of the pack along side Akela. Years later, during a fire, he sacrifices his life by fighting off Shere Khan in a desperate attempt to protect his pack and family. Mowgli also has fond memories of his adoptive father. He has a massive cock the runs down his babe of of a wife's throat!!;)